5th-gen model's inline-6 from German automaker
SODEGAURA, Japan — What makes a Toyota Supra a Toyota Supra? Ask the legendary car's chief engineer, and he will say it has more to do with the type of engine than who actually makes it.
That's the main reason Japan's biggest automaker decided to put a German-designed powerplant from BMW instead of one of its own into the reboot of its signature sports car.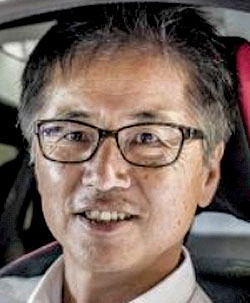 The fifth-generation Supra that debuts at the Detroit auto show next month will get an inline, six-cylinder engine, he says, because the model's identity depends on it. Every previous Supra generation had an inline-six. Customers expect nothing less in the next, Tada says.
Which is a problem: Toyota doesn't make the straight-sixers any more.
Instead, Toyota is using the same 3.0-liter six-cylinder turbo that goes into the BMW Z4 roadster. It generates more than 300 hp, Tada said, though Toyota hasn't specified exact figures yet.
Customer surveys showed that the Supra's one non-negotiable attribute was a straight six."The straight six is the only engine with perfect balance and low vibration. We can realize smooth driving with exciting sound," Tada said during a recent Supra test drive at a racetrack southeast of Tokyo.
The engine is newly developed for the BMW 3 series, Z4 and Supra, using several new technologies to improve power and emissions, Tada said. It passes strict Euro 6 emissions rules.
But the Supra draws on more from BMW than an engine. The car also shares the Z4's automatic 8-speed transmission, chassis, platform and many mechanical components. The two cars were developed together by the German-Japanese duo under a 2012 agreement.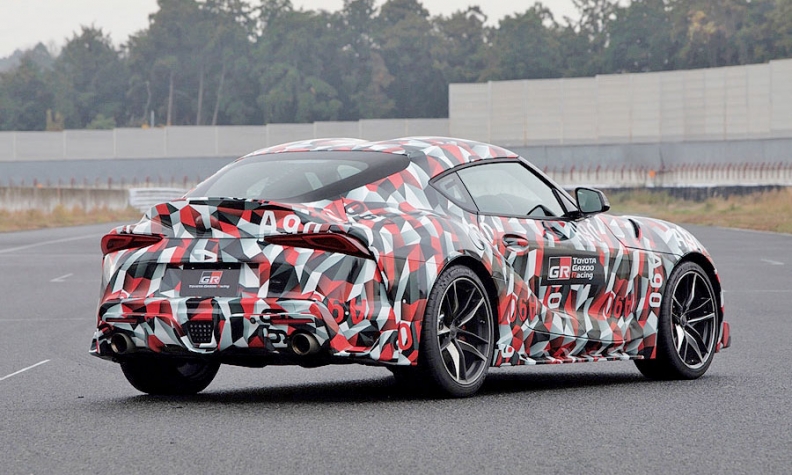 Toyota also tuned the engine, transmission and chassis to its own tastes.
That job fell to chief test driver Herwig Daenens. The Belgian driver studied at the hand of late master test driver Hiromu Naruse, the Toyota guru who taught CEO Akio Toyoda how to race and set the standard for the company's sports cars by helping craft the Lexus LFA super sports car.
Toyoda also had a voice in the tuning. He tested the car repeatedly during development, as early as three years ago in Germany, offering input on areas such as braking, Tada said.
"It was only recently that he started smiling a little, and said 'it has become better,' " Tada said.
Supra fans may get a sneak peek before the Detroit show. Toyota's Gazoo Racing division will show a GR Supra Super GT Concept at the Tokyo Auto Salon, which runs Jan. 11-13. A teaser shot of that car shows a blacked-out Supra with a large racing wing on the back lid.
The Supra is the first original product developed by Gazoo Racing Co., which was cleaved off last year as an internal subcompany in a reorganization to streamline operations.
Despite Toyota's sporty ambitions, the brand's two sporty offerings still rely on engines that aren't even made by Toyota. The Supra gets its from BMW. The other, the Toyota 86, gets its four-cylinder horizontally-opposed powerplant from partner Subaru, which also assembles the car.
But Toyota might not have to borrow from others for long.
Tada, who is chief engineer at Gazoo Racing, said the division is currently developing several of its own sporty engines for production cars. Tada declined to give further details, such as whether the engines are all-new powerplants or simply retuned versions of existing ones.
But he suggested electrification might play into the plans.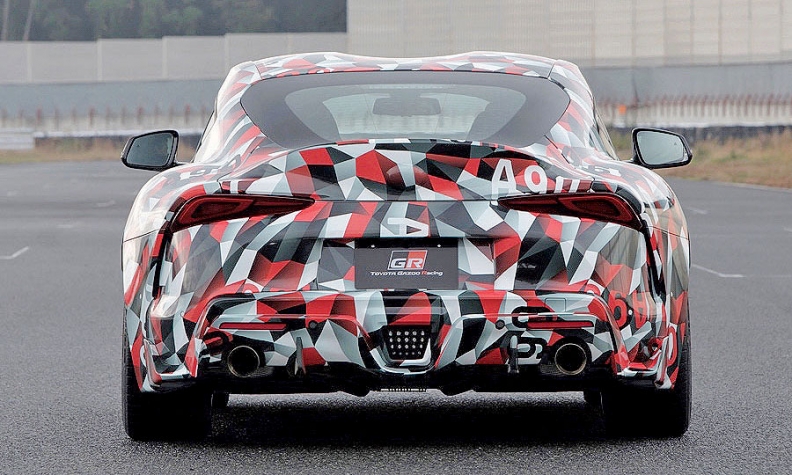 The revived Supra gets a low center of gravity, wide track and short wheelbase for crisp handling, Toyota says. It also boasts a 50-50 front-rear weight ratio and body rigidity on par with the carbon-fiber LFA. The car is code-named the A90, following on the previous A50-A80s.
Among other details released by Toyota, the Supra will get four adaptive dampers as standard equipment. The system automatically lowers the car 7 millimeters (a quarter inch) as needed for better handling and grip while cornering.
It also gets an electronically actuated active differential. The setup sends power to either rear wheel as needed for better traction. Finally, the Supra rides on stiffer wheel bearings for increased rigidity and large-diameter disc brakes with robust four-pot Brembo calipers.
"We focused on making this car as small as possible. It comes in a small package, and the driver can always feel the corners of the four tires," Tada said. "That, in turn, determined the width of the car, which made it impossible for us to create the rear seat. So we have created a two-seater car despite opposition from our sales department."
Toyota pulled the last Supra from North America in 1998, but the car remained in production for other markets until 2002. Toyota has struggled with sporty coupes ever since.
The last generation Supra model offered a twin-turbo six that gave near supercar performance of 0-to-60 mph times under 5 seconds and a top speed of more than 150 mph.
That car was also pricey, selling for more than $50,000 in 1996.