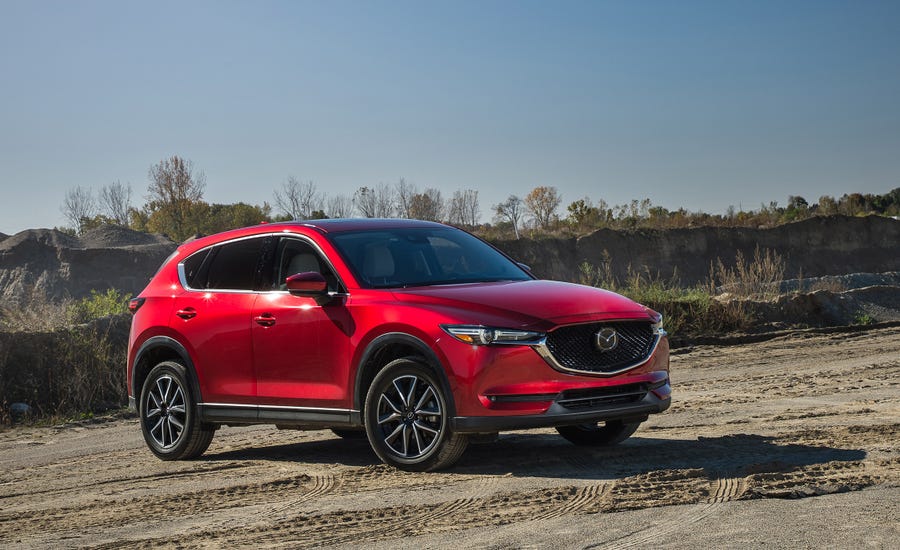 For all their popularity, compact crossovers are some of the dullest-driving vehicles in the national motor pool. Their tall bodies hinder handling; they're typically equipped with all-wheel drive, which adds weight; and many try to get by with small four-cylinder engines and droning continuously variable automatic transmissions (CVTs) in an effort to eke out decent fuel economy. We'll concede that their practical shape provides a good amount of space for people and stuff in a reasonably sized package and that all-wheel drive is a boon in bad weather, while their elevated seating position scratches a psychological itch. In picking the best of the bunch for 2018, our choice was clear: Do we honor an entry that delivers a well-balanced plate of vehicular steamed veggies, or do we honor one that stands out for making this recipe something not just palatable but tasty? We chose the latter, the Mazda CX-5.
From the first turn of the wheel, it's evident that the Mazda is something different. The CX-5 follows steering commands with an eagerness that belies its category. Its chassis provides a master class in body control—firm enough to make for engaging handling yet supple enough to shrug off pavement imperfections. Further improving its athleticism are subtle changes that came as part of the model's 2017 makeover, including a wider track and a lower center of gravity.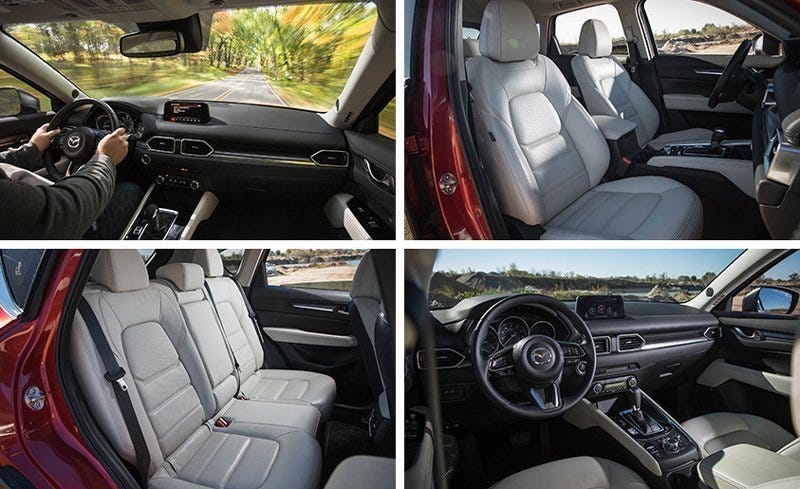 The CX-5, though, isn't a numbers car. Its sole powerplant, a 2.5-liter inline-four, makes 187 horsepower and 186 lb-ft of torque; that's not bad, but some competitors have optional engines that offer more. While the CX-5's EPA ratings are not at the top of the segment, either, in our 75-mph, real-world highway fuel-economy test, the Mazda was one of the only models in its segment to beat its EPA highway rating, doing so in both front-wheel-drive (33 mpg versus a 31-mpg rating) and all-wheel-drive (32 versus 29) guises. The 2018 model adds cylinder deactivation, too, and sees its EPA rating improve incrementally.
The CX-5's engine is naturally aspirated, with the precise and linear throttle response that's often lacking in turbocharged engines. And whereas droning CVT automatics are common in this field, Mazda uses a six-speed conventional automatic. Even better, the transmission is responsive and eager to downshift. The engine delivers its oomph higher in the rev range than do most turbos, but revving this four is no longer a noisy affair, as Mazda has dramatically upped the little SUV's sound-insulation game, part of an overall push to take the brand further upscale.
Those same upscale aspirations are evident in the interior. Although the CX-5 doesn't offer the roomiest rear seat or the most capacious cargo hold in the segment—it's right behind the class leaders in both metrics—the cabin is more about quality than quantity. The materials are rich, and the design is handsome. We also appreciate the excellent seating position, with a comfortable dead pedal and great sightlines. Even the base version is decently equipped, including features such as blind-spot monitoring, rear cross-traffic alert, and a 7.0-inch display screen. Yet despite the CX-5's class-above dynamics and interior, pricing is right in line with its competitors. A compact crossover is a practical purchase, but it doesn't have to be a dull one. —Joe Lorio
Specifications
VEHICLE TYPE:
front-engine, front- or all-wheel-drive, 5-passenger, 4-door hatchback
BASE PRICE:
$25,125–$31,920
ENGINE:
DOHC 16-valve Atkinson-capable 2.5-liter inline-4, 187 hp, 186 lb-ft
TRANSMISSION:
6-speed automatic with manual shifting mode
CURB WEIGHT (C/D EST):
3550–3700 lb
PERFORMANCE (C/D EST):
Zero to 60 mph: 8.1–8.2 sec
Standing ¼-mile: 16.3–16.4 sec
Top speed: 130 mph
EPA FUEL ECONOMY:
Combined/city/highway: 26–28/24–25/30–31 mpg
---
The Ground Rules
To determine our 2018 10Best Trucks and SUVs, we followed our usual 10Best procedure of inviting the previous year's winners plus vehicles that are all new or significantly updated within each segment. Competing vehicles must have a base price of less than $80,000 and be on sale by January 31, 2018. Each competing vehicle is driven and fully evaluated by our entire editorial staff during our weeklong test, and winners have been determined via editors' votes for which entrants best deliver across three key areas: value, driving enjoyment, and overall mission fulfillment.