Kia Soul: Best Subcompact SUV
Fully realized and fun to drive.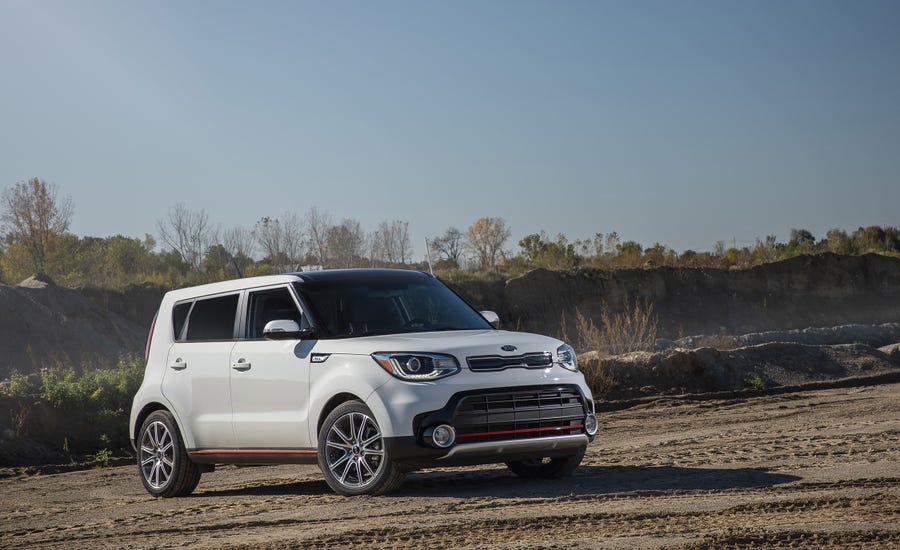 It's hard out there for a driver on a budget. New-car prices keep going up, wages remain stagnant, and, based on a cursory Google search of the values of various human body parts, a person needs to sell bone marrow and perhaps a wig's worth of hair to come up with the cash to cover the cost of a basic new car. For buyers who crave the social and warranty benefits of a vehicle fresh off the lot, the market can look bleak. Enter the Kia Soul.
Pleasantly funky-looking with a usable rear seat and a healthy array of available high-rent features, the Soul redefines expectations for a subcompact SUV. The Kia's cuboid form, blacked-out A-pillars, and unusual floating panel on its liftgate announce it as something special and strange; optional ambient interior lighting that can pulse in sync with whatever's coming through the speakers reinforces that message. It is unabashedly odd in a class where entrants—mostly unsuccessfully—seek to emulate the gravitas of larger crossovers, and the Soul is made more charming by its willingness to lean into weirdness.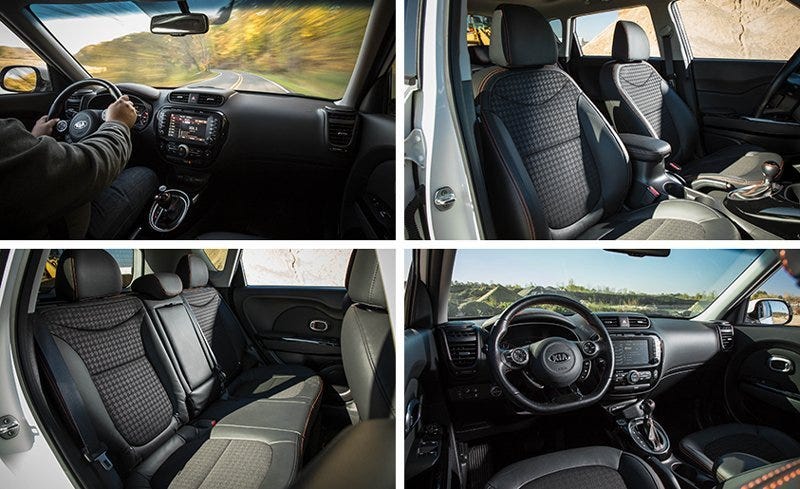 The fun doesn't stop with the Soul's design. While the 130-hp entry-level engine isn't particularly robust, the available 201-hp turbocharged 1.6-liter inline-four with its seven-speed dual-clutch automatic is downright lively; accelerating the Soul from zero to 60 mph in as little as 6.3 seconds in our testing, it leaves every competitor in the dust. Even better, according to the EPA that engine is actually more efficient than both the naturally aspirated 1.6-liter and the midlevel, 161-hp 2.0-liter, and it returned 30 mpg during our real-world highway fuel-economy test. The turbo four comes standard in top-level Exclaim models (also denoted as "!"), but every Soul benefits from a compliant ride and a suspension that can handle curvy roads and tight corners with composure.
The absence of an all-wheel-drive variant is the Soul's main deficiency, but it makes up for this shortcoming with a genuinely comfortable and useful interior. With an upright cabin, 39.1 inches of rear-seat legroom, and an available panoramic sunroof to make things airy, four adults can be comfortable in the Soul for hours at a stretch. The tall greenhouse and raised seating position mean that drivers have a wide-open view of the road ahead, and despite its objectively small footprint, the Soul's vibe from the driver's seat is more like that of a utility vehicle than a car.
In a segment in which too many entries feel like penalty boxes where dynamics were given little to no priority, the Soul is entirely its own animal. Fully realized, fun to drive, and replete with the kind of infotainment tech and other features that are typically reserved for pricier cars, it's everything we thought we would never find in a subcompact crossover. And with even the fully loaded version ringing in at less than $28,000, you won't need to sell part of your liver to afford one. —Annie White
Specifications
VEHICLE TYPE:
front-engine, front-wheel-drive, 5-passenger, 4-door hatchback
BASE PRICE:
$16,995–$23,695
ENGINES:
DOHC 16-valve 1.6-liter inline-4, 130 hp, 118 lb-ft; DOHC 16-valve 2.0-liter inline-4, 160 or 161 hp, 149 or 150 lb-ft; turbocharged and intercooled DOHC 16-valve 1.6-liter inline-4, 201 hp, 195 lb-ft
TRANSMISSIONS:
6-speed manual, 7-speed dual-clutch automatic with manual shifting mode, 6-speed automatic with manual shifting mode
CURB WEIGHT (C/D EST):
2900–3250 lb
PERFORMANCE (C/D EST):
Zero to 60 mph: 6.4–9.1 sec
Standing ¼-mile: 15.0–16.9 sec
Top speed: 115–130 mph
EPA FUEL ECONOMY:
Combined/city/highway: 27–28/24–26/30–31 mpg
---
The Ground Rules
To determine our 2018 10Best Trucks and SUVs, we followed our usual 10Best procedure of inviting the previous year's winners plus vehicles that are all new or significantly updated within each segment. Competing vehicles must have a base price of less than $80,000 and be on sale by January 31, 2018. Each competing vehicle is driven and fully evaluated by our entire editorial staff during our weeklong test, and winners have been determined via editors' votes for which entrants best deliver across three key areas: value, driving enjoyment, and overall mission fulfillment.